The Lightning Pool UI is Open for Testing and More Product Updates!
At Lightning Labs, we're building the technology to bring bitcoin to the next billion people. Our goal is to make the easiest platform for anyone to integrate internet-native digital money using Lightning. This is the first in a regular series of blog posts aimed at keeping users apprised of our latest product updates.
We recently shipped lnd 0.12, our Lightning implementation optimized for reliability, performance and security, and this week we're announcing updates across several of our products that help developers build more efficiently and effectively on Lightning.
Lightning Terminal: Test Our UI for the Lightning Pool Liquidity Marketplace
Many users asked for a visual way to interact with the Lightning Pool liquidity marketplace, and we're excited to announce that our unified dashboard Lightning Terminal now includes a UI for Pool!
Users who want to deploy their capital to Lightning and earn a return, or get access to liquidity on Lightning by buying channels no longer have to rely on the command line and can now do so with a simple UI. Upgrade to the latest version of LiT to get started.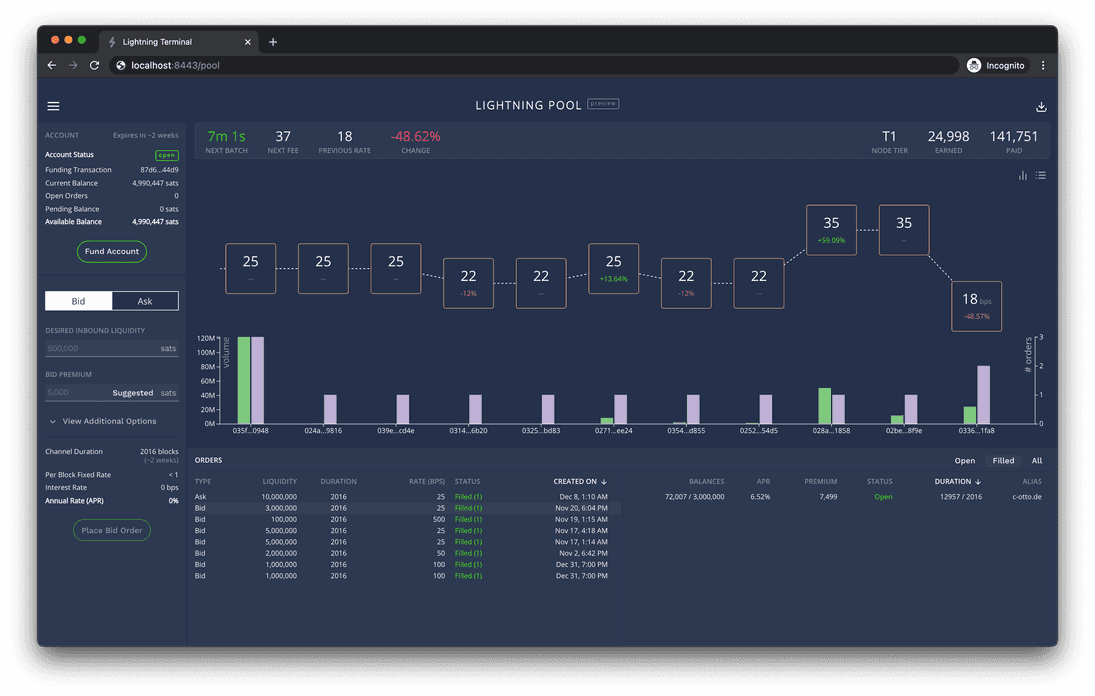 The new interface allows users to easily see the history of batches in a chart or list view. Users can now create, fund and renew accounts, as well as submit and view orders with just a few clicks. The newest version of LiT contains our latest lnd v0.12-beta release, as well as the most up-to-date versions of Loop, Pool, and the lnd tools suite Faraday.
This is a preview testing release, so we would love to hear any and all feedback on the design. Please reach out to us on Slack or Twitter with comments or questions.
Install Lightning Terminal today to start buying and selling channels with Lightning Pool.
Lightning Pool: Introducing Account Renewals
Lightning Pool connects node operators who need access to bitcoin liquidity to those who have capital to deploy on the Lightning Network. With Pool, node operators are able to bid on and purchase inbound liquidity all while maintaining full custody of their funds.
The non-custodial nature of Lightning Pool means that accounts must have an expiration date as a fallback measure. In order to continue using an account past the expiration date, users previously had to renew their account by closing and subsequently reopening it, which required two on-chain transactions. Based on user feedback, we've made managing your Pool account much simpler. In the latest release, accounts can now be renewed in one on-chain transaction. Creating an account is also now much simpler as we set a default expiration of 30 days (expressed in blocks).
We've also introduced support for multiple distinct channel lease durations and plan to introduce new markets with longer lease durations as demand grows. Upgrade to the latest version of Pool to get started, and install Lightning Terminal to take full advantage of the Pool UI.
Lightning Loop: Simplifying Authentication
Loop is our liquidity service that makes it easier to send and receive funds on Lightning, serving as an on and off ramp between the Lightning Network and the bitcoin blockchain.
We've introduced improvements in the latest release of Loop, including simplifying authentication with macaroons. Loop now requires just a single macaroon for authentication with lnd, instead of the multiple needed in the past. This change greatly simplifies setup as you no longer need to copy over or specify an entire directory containing all the macaroons. Upgrade to the newest release of Loop to get started, and download Lightning Terminal for a unified Loop and Pool dashboard
What's Ahead: Making It Easier to Use Terminal and Better Testing Tools
We'll be shipping more features in the near future to make developing Lightning-based services easier than ever. This includes adding regtest support to simplify Loop integration, simplified authentication for Lightning Terminal to streamline installation, and additional improvements to Autoloop to further automate liquidity management.
We're continually improving our products based on your input. Please reach out to us on Twitter or join the lnd Slack with any thoughts or feedback.
And if you're as passionate about bringing bitcoin to the next billion people as we are, we're hiring!